The Modelio Academic Program
Modeliosoft products (tools and modules) available free of charge for higher education institutions

Program Overview
The Modelio Academic Program offers higher education institutions worldwide the chance to integrate Modeliosoft products into their curriculum. Higher education institutions participating in this program will be able to use Modeliosoft products, with all available extensions (with the exception of teamwork), completely free of charge.
The Modelio Academic Program provides approved higher education institutions with access to the Modeliosoft installation file download area. This is accompanied by an activation key that is intended to be used for Modelio installations on university-owned computers for educational purposes.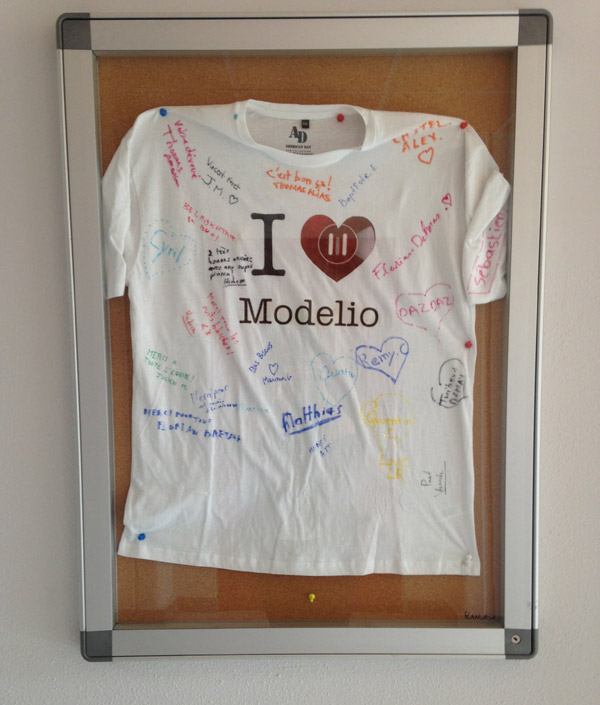 T-shirt and Photo kindly created by students of Université de La Rochelle
Is your school participating in the Modelio Academic Program?
Yes
You can access the Modelio Academic Download Area with the credentials provided to you.
Application Process and Approval
Join the Modelio Academic Program in three steps

1. Send an enquiry
Send an enquiry to the Modelio Academic Program manager by filling in the subscription form.

2. Sign the agreement
Sign the Modelio Academic Program Agreement that is emailed back to you.

3. Receive the activation keys
Receive your Modelio academic activation keys and send them to the students concerned.
If you are an instructor at a higher education institute and would like to participate in the Modelio Academic Program, Modeliosoft will require documentation proving your academic status. This can be provided by sending a letter (on official headed paper with the official school letterhead) identifying your current academic status, and countersigned by your department chair (or other designated supervisor).
In the meantime, don't forget that Modelio (Open Source edition) can be downloaded by anyone through the Modelio Community Portal.
---
Program Benefits
Teachers and students whose higher education institutions are participating in the Modelio Academic Program can install and use Modeliosoft products both on the institution's premises and at home.
Licenses are provided for one academic year for all teachers and students participating in the program. They must be renewed each year.
Teachers and students have access to the Modelio forum for help and feedback on getting the most out of the Modelio tool.
Program Restrictions
The software obtained as part of the Modelio Academic Program is restricted for educational or non-commercial research purposes only.
The distribution of the student key to any third parties constitutes an abuse of the academic license key and will result in the forfeiture of this free academic license.
---
Eligibility
All teachers providing training on subjects related to modeling, MDA, UML, BPMN, Enterprise Architecture, SoaML, SysML, model-driven development or any other model-related syllabus can contact us and get a Modelio academic program license, subject to approval by Modeliosoft.
For more information, or if you have any questions or require any assistance, please contact us.
This email address is being protected from spambots. You need JavaScript enabled to view it.
---
Support
Modeliosoft support (by email or hotline) and maintenance (access to patches, service packs and new versions) are not included in the Modelio Academic Program. However, Modeliosoft offers a special price for support and maintenance for participants in the program. For more information on this service, This email address is being protected from spambots. You need JavaScript enabled to view it.
---
Modeliosoft reserves the right to make changes to the Modelio Academic Program at any time without notice.